Travis Miller has a machining job, a cat named Elwood, and a pathetic love life. The one bright spot in his existence is the handsome guitar player he sometimes passes on his way home from work. But when he finally gathers the courage to speak to the man, Travis learns that former novelist Drew Clifton suffers from aphasia: Drew can understand everything Travis says, but he is unable to speak or write.
This short story was sweet from start to finish and I feel so luck for finding it. Travis and Drew were adorable and Drew's disability was protrayed extremely well. I'm only sad that it was so short,because I can't get enough of these two.
This was me by the end of the story: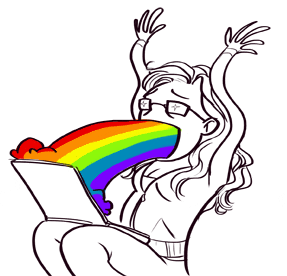 Recommended!